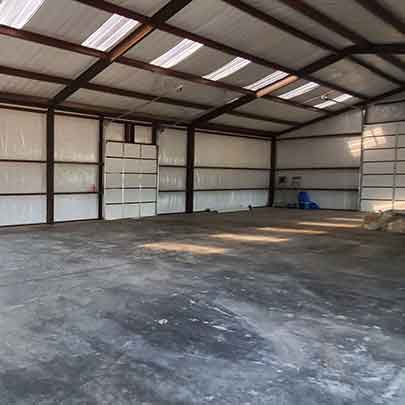 We Offer Custom-Built Metal Buildings, Fences, and Carports
Metal buildings are the perfect choice for any business, owing to their resistance to harsh weather conditions and pests. Charles Terry Construction, Inc. has years of experience manufacturing metal and can help customize a stunning metal building for your needs.
Why Metal Buildings Work
If you're looking to build a new building or want to remodel an existing structure, having a metal building erected can save you time and money. Metal buildings are more durable than wood or other materials, so they can last longer than traditional structures and require less maintenance down the road—and they'll look great too!
In addition to being more durable than wood or other materials, metal buildings are also more energy-efficient than conventional construction methods because they keep out unwanted heat in the summertime while allowing sunlight through during the winter months when temperatures drop below freezing levels outside your home or office space.
At Charles Terry Construction, Inc., we offer a variety of colors and types of metal to help you customize your metal building to your heart's content. And if you're looking to build your own metal building, we can provide the parts you need to make your metal building dreams come true.
Our commitment to high-quality and customer satisfaction ensures you won't be kept waiting for longer than 2-3 days when you choose to order your materials from us.
Book An Estimate!
Curious about metal buildings? Contact us today at (432) 520-6943, and we'll run you through our process for tailoring a perfect metal building exactly to your standards and preferences. We even offer free estimates, so you'll know exactly what you're getting when you choose Charles Terry Construction, Inc.